Location
Calvary Baptist Church
1600 Marion Road
(Marion Rd. @ Beal Ave.)
Bucyrus, Ohio 44820
(419) 562-7952

Google Map
Service Times
Sunday School ~ 9:30 A.M.
Sunday Morning Worship ~ 10:30 A.M.
Sunday Evening Worship ~ 6:30 P.M.
Wednesday Prayer Meeting ~ 7:00 P.M.
Upcoming Events
December 13
ABC Club - Christmas party @ 6:00pm. There will be a catered meal in the fellowship hall. Cost is $12 per person and reservations were required.
Sunday December 16
Special Christmas Music Service @ 10:30
Sunday December 16
Church family Christmas party and lunch @ noon
Sunday December 16
The evening service will be moved to 1:45pm for the day. Special speakers for this service will be Elijah Willman and Dallas Willman.
Monday, December 31
New Year's Eve Service - everything will begin at 7:00pm. Several area churches will be joining us for games, preaching, fellowship and food.
Email Pastor Lance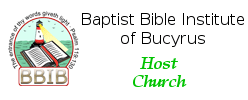 19168