Location
Calvary Baptist Church
1600 Marion Road
(Marion Rd. @ Beal Ave.)
Bucyrus, Ohio 44820
(419) 562-7952

Google Map
Service Times
Sunday School ~ 9:30 A.M.
Sunday Morning Worship ~ 10:30 A.M.
Sunday Evening Worship ~ 6:30 P.M.
Wednesday Prayer Meeting ~ 7:00 P.M.
2019 Veterans' Service
November 3 @ 10am
Upcoming Events
December 15 - Sunday
Christmas Special Music Service @ 10:30 - you won't want to miss this service filled with musical specials and readings from the Bible!
December 15 - Sunday
Church Christmas Party following the morning service. Ham and cool-aid will be provided. Bring a dish to share.
December 24 - Tuesday
Candlelight Service - midweek service will be moved from Wednesday to Tuesday this week.
December 31 - Tuesday
New Year's Eve Service - will be held at Liberty Baptist Church in Marion from 7:00pm until just after midnight. Come for all or just a part and bring in the New Year in the Lord's house!
Email Pastor Lance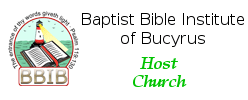 2771