Location
Calvary Baptist Church
1600 Marion Road
(Marion Rd. @ Beal Ave.)
Bucyrus, Ohio 44820
(419) 562-7952

Google Map
Service Times
Sunday School ~ 9:30 A.M.
Sunday Morning Worship ~ 10:30 A.M.
Sunday Evening Worship ~ 6:30 P.M.
Wednesday Prayer Meeting ~ 7:00 P.M.
Upcoming Events
Saturday, April 28
Young Adult Fellowship - Progressive dinner.
Thursday, May 10
ABC Picnic at the Bush's. Hot dogs and hamburgers furnished by the ABC club.
Saturday, May 12
Young Adult Fellowship outing - Putt Putt Golf and Taco Johns
Saturday, May 19
Men's Breakfast @ 9:00am
Monday - Friday, June 4-8
VACATION BIBLE SCHOOL - 6:30 till 8:30 nightly. Friday will be our annual award ceremony/hot dog roast for the whole family. We will have a special missionary speaker on Friday!
Email Pastor Lance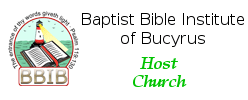 6871