Location
Calvary Baptist Church
1600 Marion Road
(Marion Rd. @ Beal Ave.)
Bucyrus, Ohio 44820
(419) 562-7952

Google Map
Service Times
Sunday School ~ 9:30 A.M.
Sunday Morning Worship ~ 10:30 A.M.
Sunday Evening Worship ~ 6:30 P.M.
Wednesday Prayer Meeting ~ 7:00 P.M.
Upcoming Events
Thursday, July 12
ABC Club activity @ Calvary Baptist. Potluck dinner and a presentation by Kare-9 Rosie, a comfort dog and her handlers. There will be time for questions.
Saturday, August 4
Young Adult Fellowship family activity - fishing derby
Sunday - Wednesday, August 12-15
Mid-Summer Revival - Dr. Cecil Thayer, pastor of Massillon Baptist Temple will be our preacher. We will meet at the regular times on Sunday and 7:00pm on weekdays.
Sunday, August 12
The annual Sunday School Contest begins today! Please be in your place @ 9:30 as we compete against Heritage Baptist Church of Upper Sandusky.
Saturday, August 18
Men's Breakfast @ the Bucyrus hospital cafeteria. Begins at 9:00am.
Email Pastor Lance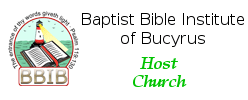 9768