Location
Calvary Baptist Church
1600 Marion Road
(Marion Rd. @ Beal Ave.)
Bucyrus, Ohio 44820
(419) 562-7952

Google Map
Service Times
Sunday School ~ 9:30 A.M.
Sunday Morning Worship ~ 10:30 A.M.
Sunday Evening Worship ~ 6:30 P.M.
Wednesday Prayer Meeting ~ 7:00 P.M.
Upcoming Events
Saturday, April 27
Youth Rally @ Cardington Baptist Temple. We will leave the church @ 2:00pm and return about 8:00pm.
Sunday, April 28
Sunrise Service @ 7:00am followed by a delicious breakfast in the fellowship hall.
Friday, May 17
Baptist Bible Institute of Bucyrus graduation - all are welcome to celebrate the graduation of 5 students and stay for a light snack reception afterwards. The graduation begins at 7:00pm. Pastor Stephen Lance will deliver a challenge to our graduates.
Monday - Friday, June 3-7
Vacation Bible School - begins at 6:30pm nightly. Friday will be our annual hot dog roast following our parents and family program.
Tuesday, June 18
Mid-week service will be held on Tuesday this week. A tour group from Hyles-Anderson College will be singing and the tour preacher will bring the message.
Email Pastor Lance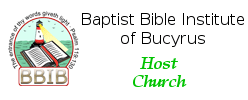 24896