Location
Calvary Baptist Church
1600 Marion Road
(Marion Rd. @ Beal Ave.)
Bucyrus, Ohio 44820
(419) 562-7952

Google Map
Service Times
Sunday School ~ 9:30 A.M.
Sunday Morning Worship ~ 10:30 A.M.
Sunday Evening Worship ~ 6:30 P.M.
Wednesday Prayer Meeting ~ 7:00 P.M.
Upcoming Events
Tuesday, February 26
North Central Ohio Baptist Fellowship meeting with begin at 9:00am with breakfast, then preaching at 10am.
Saturday, March 2
OSU Hockey Game - everyone is welcome. You must pre-pay if you want to go. See Bro. Scott for more information. We will leave church @ 2:45.
Sunday, March 31 - Wednesday, April 3
Missions Revival - Dr. Larry Emory will be our keynote preacher. Missionaries who will be with us include Jackie Hopkins (Cleveland), Mark Seymour (BMM recruiting) and Gary Holtz (Campus Bible Fellowship).
Email Pastor Lance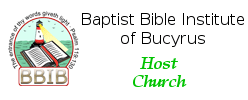 22150