Location
Calvary Baptist Church
1600 Marion Road
(Marion Rd. @ Beal Ave.)
Bucyrus, Ohio 44820
(419) 562-7952

Google Map
Service Times
Sunday School ~ 9:30 A.M.
Sunday Morning Worship ~ 10:30 A.M.
Sunday Evening Worship ~ 6:30 P.M.
Wednesday Prayer Meeting ~ 7:00 P.M.
Upcoming Events
Sunday, September 23
Final week of the Sunday School Contest ... Calvary holds a 3-2 edge over Heritage ... let's finish strong!
Saturday, September 29
Youth Rally @ Whetstone Baptist Church. We will begin picking people up at 3:00pm and expect to have everyone home by 8:00pm.
Sunday, September 30
Tie Ceremony for winning the Sunday School Contest in the 10:30am service.
Thursday, October 11
ABC Club - potluck at Calvary Baptist
Saturday, October 20
Men's Breakfast @ the Bucyrus hospital cafeteria. Begins at 9:00am.
Email Pastor Lance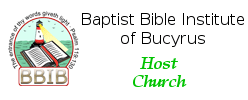 14996