Location
Calvary Baptist Church
1600 Marion Road
(Marion Rd. @ Beal Ave.)
Bucyrus, Ohio 44820
(419) 562-7952

Google Map
Service Times
Sunday School ~ 9:30 A.M.
Sunday Morning Worship ~ 10:30 A.M.
Sunday Evening Worship ~ 6:30 P.M.
Wednesday Prayer Meeting ~ 7:00 P.M.
Daily Bible Reading
March 4, 2021
Poetical Books
Ps. 45
New Testament
Luke 1
Upcoming Events
March 6 - Saturday
Ladies Missionary Fellowship meet at 9:00am at the church.
March 20 - Saturday
Men's Breakfast - meeting in the Calvary Baptist fellowship hall @ 9:00.
March 21 - Sunday
Mission's Revival Begins! Bill Fennell (WorldView Ministries) will be preaching in all of the services today.
March 22-24 - Monday-Wednesday
Mission's Revival Continues! Services begin at 7pm nightly. A missionary will present his field and preach, followed by Brother Fennell preaching the keynote sermon each evening. Services should conclude about 8:15pm.
March 23 - Tuesday
NCOBF meeting for area pastors. Breakfast will be served at 9am and preaching begins at 10am. You do not have to be a pastor to attend.
Email Pastor Lance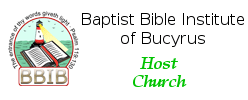 22207