Location
Calvary Baptist Church
1600 Marion Road
(Marion Rd. @ Beal Ave.)
Bucyrus, Ohio 44820
(419) 562-7952

Google Map
Service Times
Sunday School ~ 9:30 A.M.
Sunday Morning Worship ~ 10:30 A.M.
Sunday Evening Worship ~ 6:30 P.M.
Wednesday Prayer Meeting ~ 7:00 P.M.
Upcoming Events
Saturday, February 24
Concealed Carry Class - this class will be held at Heritage Baptist Church in Upper Sandusky. Class begins at 8:00 am and runs until 5:30. Snacks and drinks will be provided and 45 minutes will be allotted for lunch (sack or Mac's). Cost is $40 per person. Dress appropriately for two hours outside at the shooting range.
Monday, February 26
Baptist Boys Batallion @ 6:00 for school age young men.
Monday, February 26
Pink Camo and Lace (ladies and girls Bible study, fellowship) @ 6:00
Friday, March 2
Young Adult Fellowship game night at the Grau's.
Saturday, March 3
Ladies Missionary Fellowship @ 9:00am in the church lobby.
Email Pastor Lance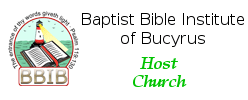 2988